Product Description
Foot Controlled AIR VALVE for Coats Tire Changers. Made in the USA. Used on dozens of models for TURNTABLE ROTATION, WHEEL CLAMPING, BEAD BREAKING. Includes spool and plunger rod.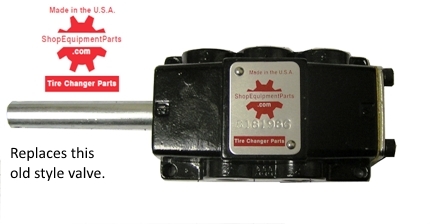 This Valve can also replace the Bead Loosening Foot Controlled Air Valve (but NOT the Wheel Clamping Valve) on Coats Baseline brand Tire Changers.
NOTE: A problem in the Clamping or Bead Breaking Cylinder can cause an air leak from the controlling Air Valve. If air is leaking from one of the exhaust ports in the valve, make sure the piston seal in the cylinder is not the problem before concluding that the valve is defective.
Used on the following models:
5030A, 5030E, 5035A, 5035E, 5040A, 5040E, 5045A, 5045E, 5050A, 5050E, 5060E, 5060EX, 5060A, 5060AX, 5065A, 5065AX, 5065E, 5065EX.

6050A, 6050AX, 6050E, 6050EX, 6060AX, 6060EX, 6065A, 6065AX, 6065E, 6065EX.

7050AX, 7050EX, 7055AX, 7055EX, 7060AX, 7060EX, 7065AX, 7065EX, 7660AX, 7660EX, 7665AX, 7665EX.

APX80A, APX80E, APX90A, APX90E (used for tilt tower control on APX models).

RC-100, RC-150EX, RC-200EX.

X-Series.

Can also replace the Bead Loosening Valve on Coats Baseline brand Tire Changers.
Many OEM and replacement valves for this brand are now made in China. But we have US MADE VALVES for these machines.
We sell only the USA made valve. We also sell the o-rings.
OEM / Aftermarket Interchanges: 181986, 8181986, 81819861, BW-1219-86, 8182588, 304V, 630V; 85609945 (valve does not include the fittings and check valve which usually can be reused; can also replace 85606879 (for Bead Loosening function ONLY)
Product Videos
Custom Field
Product Reviews
AIR VALVE, FOOT CONTROLLED; FOR COATS® TIRE CHANGERS. 8181986

Great product excellent customer service.

Fast shipping, American made product and fixed my Coats RC-200EX tire machine. Highly recommend buying from this company!

Unsprung foot control air valve

Valve works great for coats x series 50X EF 2 foot controlled bead breaker

Great product for the price

Great product for the price

Part fits nice and works great. My bead breaker never worked this fast!

Was a direct replacement for the defective valve in my Coats 5040a tire changer. Hopefully it holds up as well as the original. The original one lasted me 8 years.

Perfect fit and brand new

Spoke to sales person on phone. very polite, awesome knowledge and fast shipping it was a Perfect fit and brand new

The part was the exact part number replacement. Shipped quick. Works great. Only used one day, so can't comment on longevity yet.

Valve is very well built, better design than the OEM in my opinion. Great shipping and customer service as always.