With so many Brands and Models of equipment out there, finding the correct parts can be difficult. Also, more and more equipment is now unbranded or privately branded with vague, inaccurate, or missing parts information.
We are dedicated to being the easiest place to find the right parts you need the first time. Two website tools we have to help you do that are Product Comparisons and Product Filtering. Here are screenshot examples of how these tools can be used to find the correct Electrical Switch for a Tire Changer.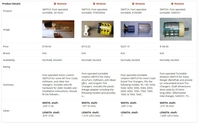 To Compare Products, click on the "Compare" box on any screen that lists multiple products; then scroll down and click on "Compare Selected".
Attributes that are specific to the type of parts you are looking at will be shown at the bottom of the comparison. In this case, the length and width of the switch shaft are shown (see below).

Another useful tool is Product Filtering. If the products in a category you are viewing have comparable attributes that can be used to find a specific part, a filtering tool may appear on the left side of the screen below the Categories Menu. You may need to scroll down to see the filtering tool.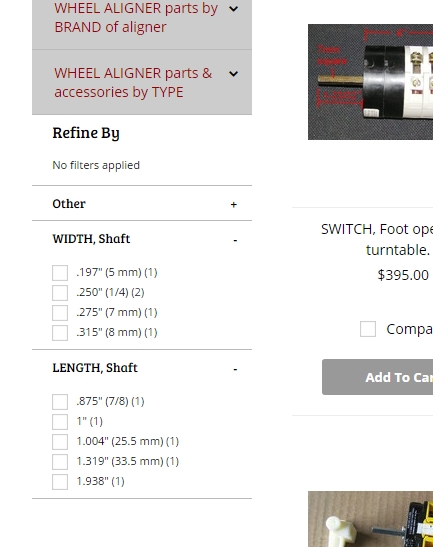 Here you can select the attribute that matches your part, and the products shown will automatically be "filtered" to those that only match your choice.
We will continue to add information and tools to the site in order to help you find the right parts fast.